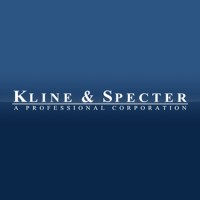 Office Locations
1525 Locust St., Philadelphia, PA 19102
Fee Information
Kline & Specter, P.C. works on a contingent fee basis – which means we only get paid if and when you are financially compensated. Kline & Specter is paid a percentage of the amount recovered. Any costs incurred by Kline & Specter will only be charged if the client is financially compensated.
1525 Locust St., Philadelphia, PA 19102
Law Firm / Lawyer Profile
Kline & Specter, P.C., is among the preeminent law firms in the United States concentrating in catastrophic injury litigation and whistleblower representation.
The firm has achieved more verdicts and settlements of $10 million or more than any other law firm in Pennsylvania, noted a recent study of all cases since 1994 by The Legal Intelligencer (read the article). The firm had 26 such cases, as many as the next three firms combined, capped by the recent $109 million verdict (and subsequent $105 million settlement) in a wrongful death case. (See all of our Major Victories)
Kline & Specter is headed by attorneys Tom Kline and Shanin Specter, both named among the "Best Lawyers in America," Pennsylvania Super Lawyers, and as members of the Inner Circle of Advocates, a select group limited to 100 of the nation's best plaintiffs attorneys. The firm has won acclaim across the country, most recently named by the independent rating service Super Lawyers as one of just 50 in the country chosen for their excellence in litigation. Kline & Specter was also selected among the Best Law Firms in the United States for 2012-2013 by U.S. News Media Group and Best Lawyers after winning major settlements and jury verdicts in a wide array of practice areas ranging from medical malpractice to workplace injuries, auto accidents to premises and products liability, pharmaceutical to civil rights.
The firm, with some 30 attorneys, seven of whom are also highly skilled doctors, has unparalleled expertise and unsurpassed success in medical malpractice litigation. Year after year, Kline & Specter has had the most medical malpractice verdicts and settlements of any Pennsylvania firm (see Medical Malpractice Major Victories). And no law firm in the United States has as many M.D.-J.Ds.
Practice Areas
Personal Injury
Medical Malpractice